Arduino PS2 to XT converter
First of all I want to point out a couple of things:
-Sorry for my bad English but my motherlanguage is Italian.
-I am not the creator of this, all the credit goes to Kestutis Rutkauskas whose blog is:
http://kesrut.wordpress.com
the reference project can be found here:
https://github.com/kesrut/tinyPS2toXTArduino
-IMPORTANT: No one is responible in case of injuries, damage to your equipment/devices, etc..so go on only at own risk.
-My advice is to fully read this few lines and evaluate if you can do this by yourself before starting anything.
So let's begin...
The purpose of this project is to use an Arduino (
http://www.arduino.cc/
) as a converter that allows common PS/2 to be used on XT type machines; as we know XT machines do not use the AT keyboard protocol; for this reason a simple port adapter is not sufficient but a chip based converter is required.
Till now there were two known solutions, get an original XT keyboard (very high quality products but nowdays very pricy, cannot be used with KVM systems) or the AT2XT converter (
http://www.vintage-computer.com/vcforum/showthread.php?26426-AT2XT-keyboard-converter
). What we are doing here is a third option faisable with very basic electronics knowledge, cheap components and little time.
First of all you need to have an arduino board and understand how it works.. If you have never seen anything like that go to:
http://arduino.cc/
and in a couple of minutes you can learn the basics of this device-don't be scared it's very very easy and there are millions of tutorials on the internet.
Then you also need:
1) some time
2) 1* CONN DIN 5 PIN FEMALE PCB (CP-2350-ND on Digikey or can be easily desoldered from an old dead mobo like I did)
3) 1*CONN MINI-DIN 6 PIN FEMALE PCB (CP-2260-ND on Digikey or can be easily desoldered from an old dead mobo like I did)
4) some small pieces of wire
As for the board I have used an "Arduino Uno" but other models can be used too (little changes to the code may be required,see
NOTE 1
at bottom); this board has a detachable Atmega 328 that can be used standalone with few basic components but without the full arduino board after the chip is programmed.
All you have to do assemble a small circuit board according to the given schematic that follows (sorry for the bad quality but was done quickly on paint) and program the arduino with the attached code.
One important advice is to DISCONNECT the USB cable from the arduino before powering the XT, the arduino board will be powered by XT itself BUT without disconnecting USB it won't work! So flash the code and then disconnect the arduino from the USB!
Before soldering anything, my suggestion is to assemble everything on a bredboard and test if it works for your computer then, you can solder the circuit on a perfboard or make your own PCB.
Here comes the scheme (this is bottom view, so keep in mind that connectors are seen from bottom!):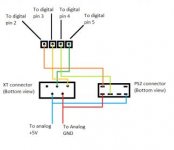 Here comes the code (sorry I was not able to compact this):

#define ps_clk 2 /* must be interrupt pin (0 interrupt) */
#define ps_data 4
#define xt_clk 3
#define xt_data 5

#define START 1
#define STOP 3
#define PARITY 4
#define INIT 5
#define GROUP1_CNT 85
#define BREAK_GRP1 0xF0
#define MAKE_GRP2 0xE0
#undef DEBUG

byte cycles = 0 ;
unsigned char value = 0 ;
byte state = INIT ;
byte got_data = 0 ;

struct ps2_struct_group
{
unsigned char character ;
unsigned char make ;
unsigned is_char ;
unsigned char xt_make ;
} ;

typedef struct ps2_struct_group ps2_group1_type ;
typedef struct ps2_struct_group ps2_group2_type ;

ps2_group1_type ps2_group1[] =
{
{'a', 0x1C, 1, 0x1E},
{'b', 0x32, 1, 0x30},
{'c', 0x21, 1, 0x2E},
{'d', 0x23, 1, 0x20},
{'e', 0x24, 1, 0x12},
{'f', 0x2B, 1, 0x21},
{'g', 0x34, 1, 0x22},
{'h', 0x33, 1, 0x23},
{'i', 0x43, 1, 0x17},
{'j', 0x3B, 1, 0x24},
{'k', 0x42, 1, 0x25},
{'l', 0x4B, 1, 0x26},
{'m', 0x3A, 1, 0x32},
{'n', 0x31, 1, 0x31},
{'o', 0x44, 1, 0x18},
{'p', 0x4D, 1, 0x19},
{'q', 0x15, 1, 0x10},
{'r', 0x2D, 1, 0x13},
{'s', 0x1B, 1, 0x1F},
{'t', 0x2C, 1, 0x14},
{'u', 0x3C, 1, 0x16},
{'v', 0x2A, 1, 0x2F},
{'w', 0x1D, 1, 0x11},
{'x', 0x22, 1, 0x2D},
{'y', 0x35, 1, 0x15},
{'z', 0x1A, 1, 0x2C},
{'0', 0x45, 1, 0x0B},
{'1', 0x16, 1, 0x02},
{'2', 0x1E, 1, 0x03},
{'3', 0x26, 1, 0x04},
{'4', 0x25, 1, 0x05},
{'5', 0x2E, 1, 0x06},
{'6', 0x36, 1, 0x07},
{'7', 0x3D, 1, 0x08},
{'8', 0x3E, 1, 0x09},
{'9', 0x46, 1, 0x0A},
{'`', 0x0E, 1, 0x29},
{'-', 0x4E, 1, 0x0C},
{'=', 0x55, 1, 0x0D},
{'\\', 0x5D, 1, 0x2B},
{'\b', 0x66, 0, 0x0E}, // backsapce
{' ', 0x29, 1, 0x39}, // space
{'\t', 0x0D, 0, 0x0F}, // tab
{' ', 0x58, 0, 0x3A}, // caps
{' ', 0x12, 0, 0x2A}, // left shift
{' ', 0x14, 0, 0x1D}, // left ctrl
{' ', 0x11, 0, 0x38}, // left alt
{' ', 0x59, 0, 0x36}, // right shift
{'\n', 0x5A, 1, 0x1C}, // enter
{' ', 0x76, 0, 0x01}, // esc
{' ', 0x05, 0, 0x3B}, // F1
{' ', 0x06, 0, 0x3C}, // F2
{' ', 0x04, 0, 0x3D}, // F3
{' ', 0x0C, 0, 0x3E}, // F4
{' ', 0x03, 0, 0x3F}, // F5
{' ', 0x0B, 0, 0x40}, // F6
{' ', 0x83, 0, 0x41}, // F7
{' ', 0x0A, 0, 0x42}, // F8
{' ', 0x01, 0, 0x43}, // f9
{' ', 0x09, 0, 0x44}, // f10
{' ', 0x78, 0, 0x57}, // f11
{' ', 0x07, 0, 0x58}, // f12
{' ', 0x7E, 0, 0x46}, // SCROLL
{'[', 0x54, 1, 0x1A},
{' ', 0x77, 0, 0x45}, // Num Lock
{'*', 0x7C, 1, 0x37}, // Keypad *
{'-', 0x7B, 1, 0x4A}, // Keypad -
{'+', 0x79, 1, 0x4E}, // Keypad +
{'.', 0x71, 1, 0x53}, // Keypad .
{'0', 0x70, 1, 0x52}, // Keypad 0
{'1', 0x69, 1, 0x4F}, // Keypad 1
{'2', 0x72, 1, 0x50}, // Keypad 2
{'3', 0x7A, 1, 0x51}, // Keypad 3
{'4', 0x6B, 1, 0x4B}, // Keypad 4
{'5', 0x73, 1, 0x4C}, // Keypad 5
{'6', 0x74, 1, 0x4D}, // Keypad 6
{'7', 0x6C, 1, 0x47}, // Keypad 7
{'8', 0x75, 1, 0x48}, // Keypad 8
{'9', 0x7D, 1, 0x49}, // Keypad 9
{']', 0x5B, 1, 0x1B},
{';', 0x4C, 1, 0x27},
{'\'', 0x52, 1, 0x28},
{',', 0x41, 1, 0x33},
{'.', 0x49, 1, 0x34},
{'/', 0x4A, 1, 0x35},
} ;

ps2_group2_type ps2_group2[] =
{
{' ', 0x5B, 0, 0x1F}, // left gui
{' ', 0x1D, 0, 0x14}, // right ctrl
{' ', 0x5C, 0, 0x27}, // right gui
{' ', 0x38, 0, 0x11}, // right alt
{' ', 0x5D, 0, 0x2F}, // apps
{' ', 0x52, 0, 0x70}, // insert
{' ', 0x47, 0, 0x6C}, // home
{' ', 0x49, 0, 0x7D}, // page up
{' ', 0x53, 0, 0x71}, // delete
{' ', 0x4F, 0, 0x69}, // end
{' ', 0x51, 0, 0x7A}, // page down
{' ', 0x48, 0, 0x75}, // u arrow
{' ', 0x4B, 0, 0x6B}, // l arrow
{' ', 0x50, 0, 0x72}, // d arrow
{' ', 0x4D, 0, 0x74}, // r arrow
{' ', 0x1C, 0, 0x5A}, // kp en
} ;

void setup()
{
#ifdef DEBUG
Serial.begin(9600) ;
#endif
pinMode(ps_clk, INPUT) ;
pinMode(ps_data,INPUT) ;
pinMode(xt_clk, OUTPUT) ;
pinMode(xt_data, OUTPUT) ;
digitalWrite(xt_clk, HIGH) ;
digitalWrite(xt_data, HIGH) ;
attachInterrupt(0, clock, FALLING);
}

unsigned char _read()
{
if (got_data)
{
got_data = 0 ;
return value ;
}
return 0 ;
}

void _write(unsigned char value)
{
while (digitalRead(xt_clk) != HIGH) ;
unsigned char bits[8] ;
byte p = 0 ;
byte j = 0 ;
for (j=0 ; j < 8; j++)
{
if (value & 1) bits[j] = 1 ;
else bits[j] = 0 ;
value = value >> 1 ;
}
digitalWrite(xt_clk, LOW) ;
digitalWrite(xt_data, HIGH) ;
delayMicroseconds(120) ;
digitalWrite(xt_clk, HIGH) ;
delayMicroseconds(66) ;
digitalWrite(xt_clk, LOW) ;
delayMicroseconds(30) ;
digitalWrite(xt_clk, HIGH) ;
byte i = 0 ;
for (i=0; i < 8; i++)
{
digitalWrite(xt_clk, HIGH) ;
digitalWrite(xt_data, bits[p]) ;
delayMicroseconds(95) ;
digitalWrite(xt_clk, LOW) ;
digitalWrite(xt_data, LOW) ;
p++ ;
}
digitalWrite(xt_clk, HIGH) ;
digitalWrite(xt_data, LOW) ;
delay(1) ;
}

byte i = 0 ;
void loop()
{
label_start:
unsigned char code = _read() ;
#ifdef DEBUG
if (code != 0) Serial.println(code, HEX) ;
#endif
if (code == BREAK_GRP1)
{
delay(10) ;
unsigned char break_code = _read() ;
unsigned char i = 0 ;
while (i < GROUP1_CNT)
{
if (ps2_group1.make == break_code)
{
pinMode(xt_clk, OUTPUT) ;
pinMode(xt_data, OUTPUT) ;
_write(ps2_group1.xt_make | 0x80) ;
break ;
}
i++ ;
}
goto label_start;
}
if (code != 0)
{
unsigned char i = 0 ;
while (i < GROUP1_CNT)
{
if (ps2_group1.make == code)
{
#ifdef DEBUG
Serial.write(ps2_group1.character) ;
#endif
_write(ps2_group1.xt_make) ;
break ;
}
i++ ;
}
}
if (digitalRead(xt_clk) == LOW) // power-on self test
{
delay(10) ;
_write(0xAA) ;
}
}

void clock()
{
if (state == INIT)
{
if (digitalRead(ps_data) == LOW)
{
state = START ;
cycles = 0 ;
got_data = 0 ;
value = 0 ;
return ;
}
}
if (state == START)
{
value |= (digitalRead(ps_data) << cycles) ;
cycles++ ;
if (cycles == 8) state = PARITY ;
return ;
}
if (state == PARITY)
{
state = STOP ;
return ;
}
if (state == STOP)
{
if (digitalRead(ps_data) == HIGH)
{
state = INIT ;
got_data = 1 ;
return ;
}
}
}









Here comes a link with an archive with the code and an higher quality pic of the schematic:

http://www.adrive.com/public/DFY4fm/PS2toXTArduino-master.zip


As the creator of this project specifies on the github page, this project is under development so there may be something that does not work flawlessly (some keyboard keys can be misplaced depending on your keyboard layout) but you can easily edit the code to fix those minor issues. Feel free to contribute on this thread..

Personally I have built the adapter and it works in a very satisfying way.. it only took a while for me to figure out the cabling but with the schematics should be clear enought..




NOTE 1

: at the beginning of the code the digital pins used are initialized.. the pins may depend on your arduino board.. Kestutis Rutkauskas the creator of this project used an Arduino Leonardo so it's code began with:

#define ps_clk 3 /* must be interrupt pin (0 interrupt) */
#define ps_data 4
#define xt_clk 2
#define xt_data 5

Here are some pics of my adapter at early stage (sorry for bad quality pics but at that time I was on hurry)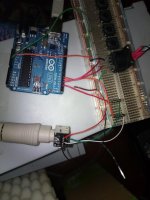 Here is my final solution (it is a board that looks like a module for the arduino, this was done for easy installation.. not a very clean board but does it's job)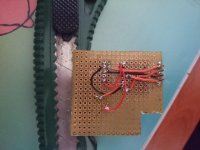 Last edited: