Joined

Apr 21, 2011
Messages

855
Location
Let me start this off by saying anything negative towards me that you have to say about this will fall on deaf ears (In other words, I don't give a damn). This is not a rare or one of a kind machine, so I did what I had to to make it usable.
The left hinge mount finally gave up on life yesterday on my LTE 386s/20 (not the proto unit I now have, this is just my regular one). So today I got creative and finally got it all back together after about 4 hours of trial and error.
This is hands-down the ugliest mod I have ever preformed. Let's just get this out of the way, here's a picture of the finished product (well, not quite; I actually did cut the excess length off of the screws afterwards):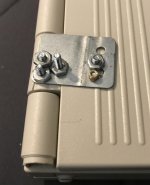 :rofl: :rofl: :rofl: :rofl: :rofl: :rofl:
:rofl: :rofl: :rofl: :rofl: :rofl: :rofl:
Beautiful, isn't it? I chuckled my ass of when I got it all back together and got a good look at it. I think it's absolutely hilarious.
Here's two more pictures; the first I one of took of it when it first broke and the second one is one showing the two newly-placed screws on the inside when I was putting it back together: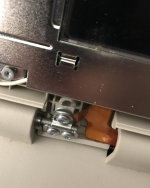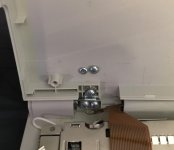 So those two new screws are where it's anchored now. As sketchy as it looks, trust me, it's super solid, and it probably more well-secured than it was originally.
This last pic is of it all back together, working and happy
: