Joined

Jan 30, 2012
Messages

6,264
Location
Owning an S-100 system has been on my list for so many years but it just never happened. The price of Imsai and Altair systems has shot way up I kind of almost gave up looking for a system.
But as things happen one showed up and I just couldn't pass it up.
As of this morning I am the new owner of a Cromemco System One Model CS-1 Ser: 51300
Lots of Photos here: Sorry for the blurry photos. It took hours to clean everything so it was dark when I took the photos :
https://photos.app.goo.gl/xXfKznfZAzNQ7H4m9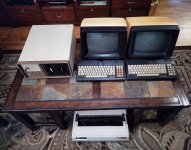 Its a dual 5.25" floppy unit. And came with the key! Also included are two ADDS Viewpoint VPT-A1 Terminals with keyboards. One unit is missing the "F3" key
There is an Okidata Microline 84 large scale dot matrix printer (what is that connector on the back of the printer for?!)
The absolute best surprise was when I got there and saw the unit for the first time there was something else not discussed or shown in photos. A QUME Dual 8" Floppy drive rackmount unit! It contains two QUMETRAK 842 floppy drives with a power supply.
The downside is the doors to the drives were left open and mice got in. I had a hint when I saw the rear AC fan was full of debris. I took it apart in my garage and sure enough.. A HUGE mouse/rodent nest with its own mummified rodent to boot. I shop vac'd all the grossness out and gave a quick clean of the case just so I can bring it and leave it in my garage (This will not go into my house Until I can rebuild and sanitize it)
After a visual inspection there are about 4 chewed wires so thats not terrible. What is bad is the corrosion brought on by the rodent urine. I am sure I can fix the drives and restore the unit but who knows if the PSU will make it. Considering its a bonus, I am not dissapointed. There are no marking on the external 8" drive cabinet except for a hand written label which I assume is the serial number "QUME 141175"
The drive cabinet must have connected to the rear of the Computer via the large ribbon cable with the card edge connector. What is strange is the cabinet has 2 card edge connectors which each go to one drive. Inside the unit one drive had the power cables disconnected so I am assuming it was only using one drive. Why not add another cable?
So when I first met the young man who was selling it I was happy the unit had the key.. The key turned from off to on to reset. After I got it home and cleaned it the key stopped turning. I moved the slide on the rear where the power is to clean did I change something to lock the key out?
I will admit I know nothing about S-100 computers other than what I have read. If any of you know this system please share some details Id love to know more and learn about this thing.
I read online the CS-1 was the base model with two floppy drives and a Z80 CPU but I was very happy to see the CPU card has a Motorola 68000 cpu also!! I can run Cromix!
Well I spent all afternoon cleaning the thing and I am tired. No I did not try and fire it up. The seller said they never tried to power it up either and I am included to believe them.
Would love to hear what you all think.
Last edited: