Joined

Jan 17, 2011
Messages

480
Location
Well, here's what I get when I flash in that BIOS: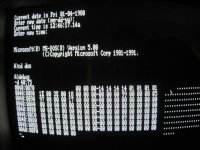 So the first byte is indeed 00, that relates back to FDISK saying "No hard disks present" :-(
Here's the boot screen, I do get this after the HeadStart Explorer logo... so it displays this, quite unreadable and weird (so it CAN display a menu after the Explorer Logo). The screen is quite fuzzy because somehow my camera doesn't like this (after I'm in DOS, the screen refresh seems better and I can get normal pics as the above one):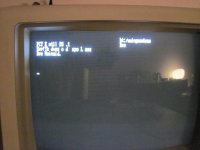 It displays something like "PCT E ntil BS .1"
"Err!Th dves o d spo L aes"
"Dre Noinald."
And half a http:// address with "Dre" on the right side.
Weird.... or what?