Joined

Oct 22, 2008
Messages

6,869
Location
Officially the craziest thing I've ever done. :D
This came out of the Houston sale. As it turns out there was three keypunches in all however the other two were incomplete Model B's while this one was a Model C that for some reason had the badge of a 129 and its keyboard. After some extra photos and a few phonecalls I was able to negotiate a price and pair the machine up with a Model 29 coverplate again and a slightly more matching keyboard. With some help of two other members we split freight for one skid three-ways and it landed in Canada two weeks later for pickup.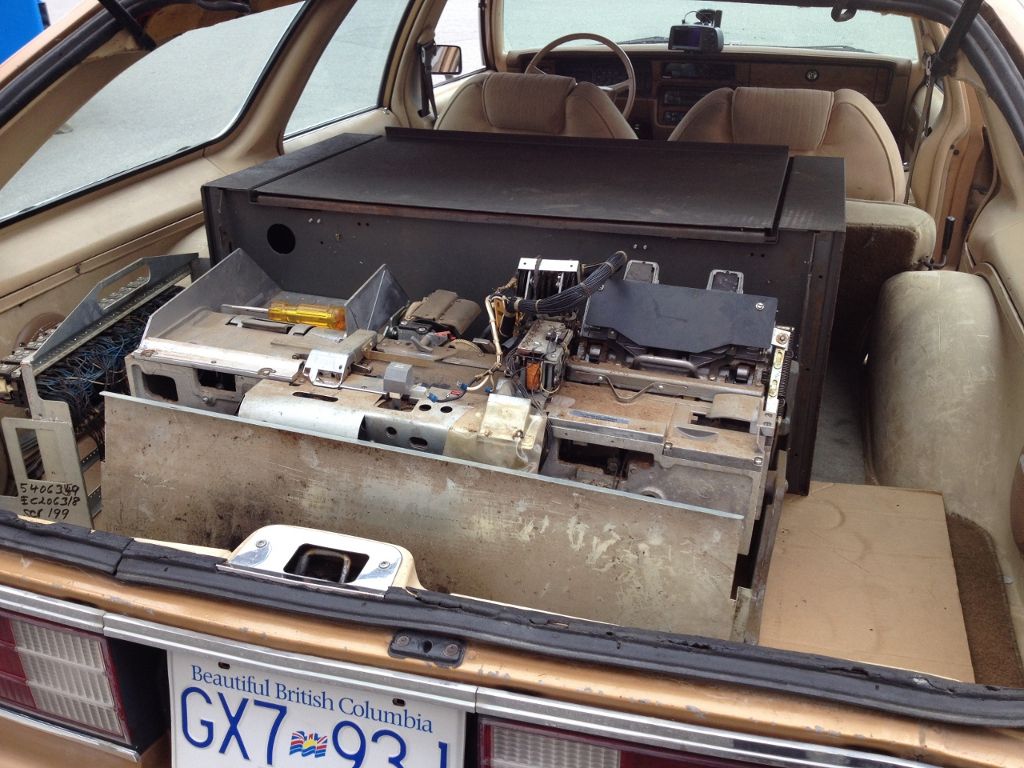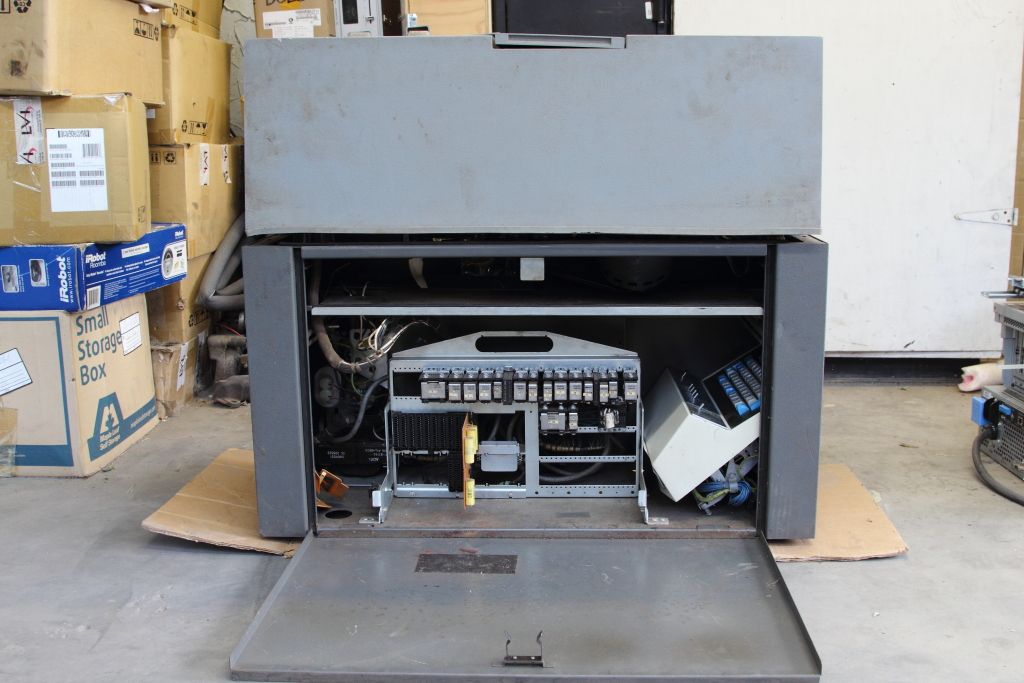 There was speculation a lot of items at the sale would of had heavy weather/moisture damage but as it turns out we all received equipment that internally wasn't rusty or showed any signs of weather related damage but was really, really dirty. As you can tell the machine is missing the desk, which I don't mind as I can make another one but only after it was here did I realize the Model AB and the Model C have different name badge coverplates. The one I received doesn't fit as the cutout for the print interpreter interposer was missing. If anyone would like to trade panels or has the correct one I'd like to hear from you please.
The lower cabinet, power supply and relay chassis are all in good condition and the chip bucket had all the various screws, fasteners and pieces that I didn't remove when separating the two halves. For something that supposedly weighs north of 200lbs it got quite easy to transport once it was dismantled into smaller and more easy to manage pieces.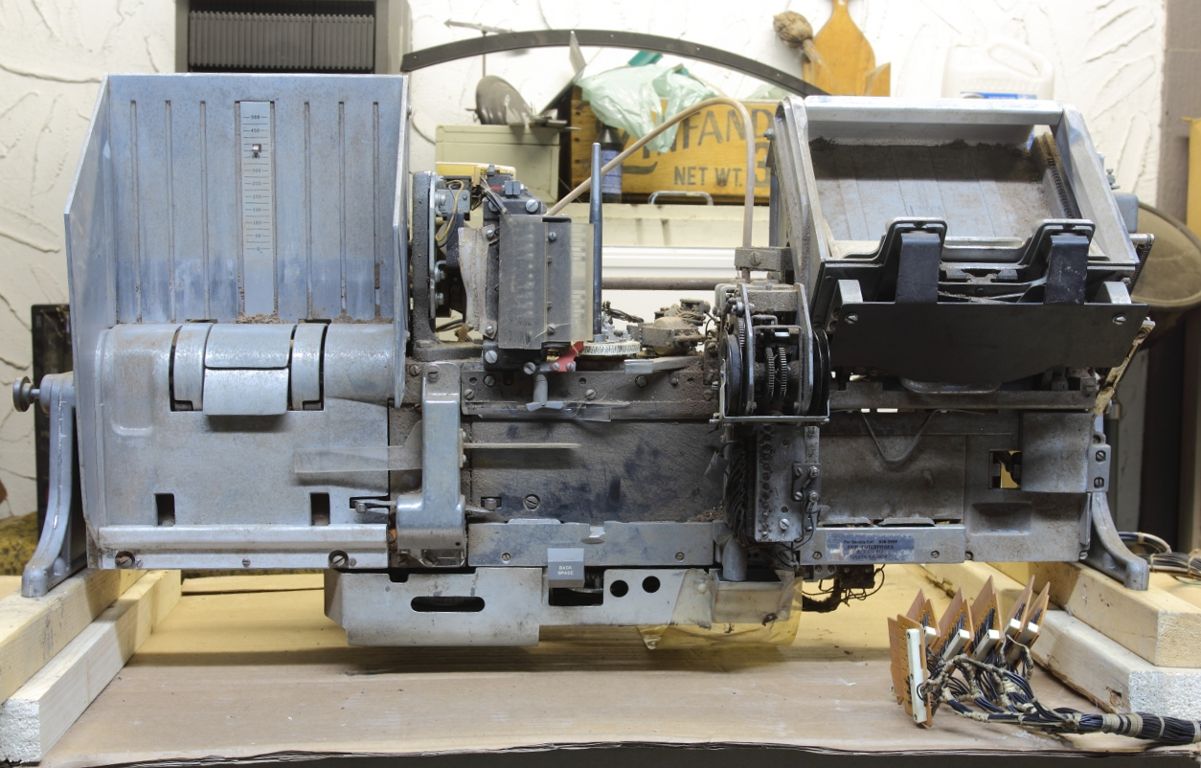 For where it was stored it's in very good condition. The grease has not completely dried out yet and nothing appears to be seized. I would not be at all surprised if it starts to really come back once cleaned and relubricated.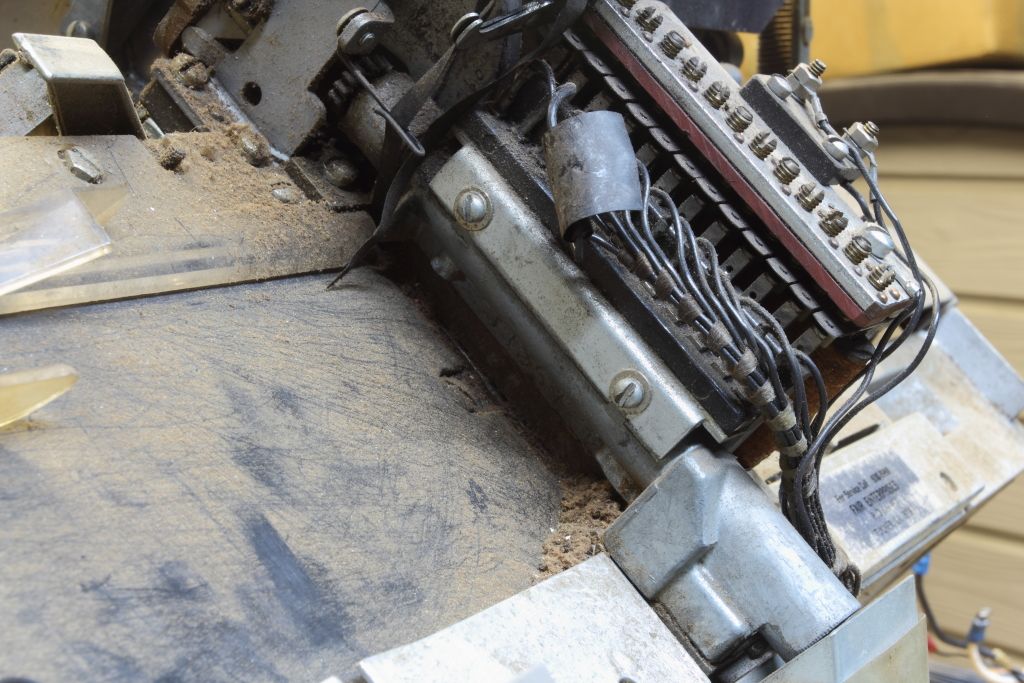 This is as bad as it got. The pot metal that made up the programming drum and its assembly was starting to corrode up but the drum especially cleaned up with vinegar and water.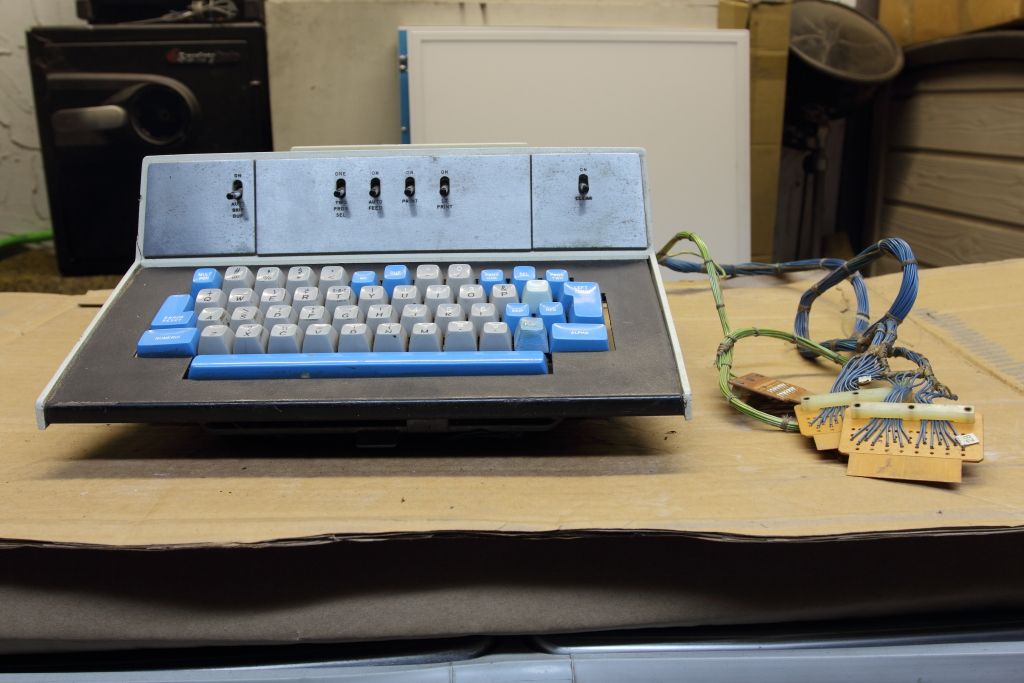 Here is the keyboard I received. It is for a model 29 but not for a model C as the switch for PUNCH/INTERPRET is missing. The control wiring for it would be on the green wire harness pictured on the right. It is also quite clean with no rust and will come back fine with a cleaning.
From here I only have one other big issue and that is the wiring drawings for the Model C are not on bitsavers so I'm going to have issues fixing a few pulled wires on the relays. Likewise I have a few outstanding questions on a few other things such as contact cleaning (deoxit soaked strips of paper or 1200 grit buff cloth?) and dealing with the half dozen rubber rollers that are in the machine that are not melted and might come back with a reconditioning. Mr Verdiell's video when he cleaned up his machine is helpful here, as is Conmega's thread when he got his own 026 punch a few years ago.
[link]
Scheduled completion of this project is next spring.