Joined

May 15, 2013
Messages

271
Location
Recently I've picked up a model 70 with monitor and keyboard and mouse for about 50 dollars.
Other then it being one of the dirtiest computer I've gotten and the front plate being cracked and missing holding clips inside to keep it on (which I have since found some of the clips inside and glued them back on and glued the crack up) it was all there.
I got it and it had a long older style designed token ring card (actually wanted one and didn't know it was in there so that was good) and an EtherLink III card. It also has a math coprocessor installed and usually that's a rare addon to have in older machines but I'm not sure if it was rare for the PS/2? This is my first PS/2 so...
It was advertized as 'won't boot' and there were no pictures of it even being powered on so it could have been anything.
I turned it on and it was just CMOS battery errors. So I got a battery with charge threw it in and burned a Reference disk.
Everything was going smoothly so far, then I ran the 'test your computer' everything went fine all the way up to the 'fixed disk test' then I got this...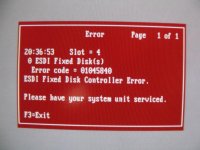 So this is why I'm here.
When I start up the machine I hear the disk spin up and move it's arm around a bit which makes me think it should be fine but I guess it's test tells me otherwise.
I'm already on the hunt for a new HD if this one is dead. But I wouldn't mind trying to save this one as it seems to spin up fine... I already checked on it's board the (through hole) resistor values and that the 3 electrolytic caps weren't shorted and everything seemed fine...
Any idea's?
Thanks in advance!