Joined

Nov 18, 2003
Messages

3,885
Location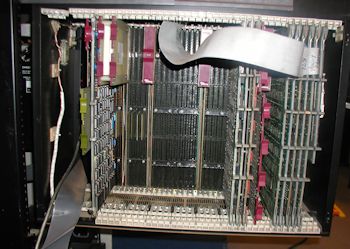 http://vintagecomputer.net/digital/pdp11-40/coreplanes_installed.jpg
Over the past two days I put in a core backplane and 16K core in my 11/40 "short cabinet" system. I also added another SPC backplane to I can have do more stuff with this machine. I removed the 64K MOS memory for now.
http://vintagecomputer.net/browse_thread.cfm?id=635
One thing I wanted to pass along..when you put in the Grant Continuity cards, be sure the gold pins are facing to the left. Also, you don't need GC cards in empty core backplane slots.
CPU and 16K core
http://vintagecomputer.net/digital/PDP11-40/16K-Core-Installed.jpg
The system's higher functions are not working correctly. I can no longer boot to the console (via 9600b terminal) - both the M7856 serial card and the M9312 do not appear to be functioning like they were before I installed the new backplanes. I suspect power is the issue, or I fried something. I am confident I have termination, grant and NPG correct.
I CAN run programs from the front panel, store programs in core, cold boot and they're still installed in memory. No perceived faults.
I am guessing I am not getting enough power to the DD11C backplane. Note that there is a NPG card in the last slot of the DD11C, this backplane was altered to require this, in addtion to slot 2 which is comes that way. I have the M7762 RT-11 controller in slot 2. Quick tests showed some low +5V spots. I have more than one H744 to track down. typical stuff.
Last edited: