So I'm digging around in stuff I acquired and found a Z-205 256k memory card for my Zenith Z-100.
I installed it and after running the Zenith disk based memory diagnostics and replacing some memory and reseating others,
it passes all the memory tests except parity: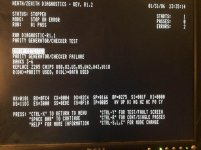 It gives a list of chips as possibilities starting with U88 which is memory. Replacing that didn't help. I tested the socket with an ohmmeter too.
My question would be: Is parity necessary for operation?
Isn't it just an odd/even checksum to verify the memory is good?
If I know the memory is good, who cares about parity?
Just wondering if I need to chase it further ...
Larry G
PS - I'm probably going to anyway because it will bug the crap out of me otherwise