Joined

Apr 21, 2011
Messages

894
Location
Did a few repairs on my newly-acquired Kaypro II today.
First repair was resoldering the connector on the power supply, as the joints were all cracked and broken on it, resulting in intermittent issues.
Here's a before: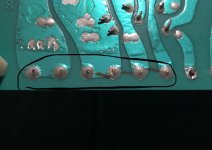 I had actually already sucked the solder off of a few when I took this picture, but I outlined the ones that were still untouched, which is what they all looked like.
Here is after: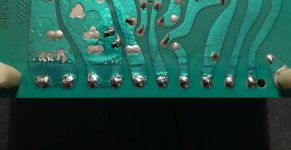 Much better! All intermittent problems have also vanished!
Second was the latch on the A: drive. These Tandon drives are kind of notorious for this problem, and this one was no exception. When I went to go take the disk out last night, it gave up on life. Thankfully I had a spare non-working drive that was similar, so I took the necessary parts from that, and was able to successfully repair the Kaypro's drive!
It's a bit tough to get the drives out of a Kaypro II, as there's not much clearance between the left side screws and the CRT. I ended up having to use vice grips to remove the screws on that side, since I didn't have a screwdriver that was short enough. That actually worked out surprisingly well, which is good, because I did NOT feel like removing the entire CRT.
Here's some shots of it all back together and working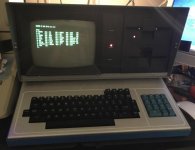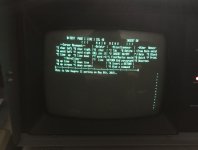 I sure do like this thing. I'm really digging CP/M also! The games made entirely out of ASCII characters are also super fun
This machine was definitely not made for games, which is one of the things I love about it. I like things that people got serious work done with in the past, and the Kaypro is exactly that. In other words, this machine was no "toy" when it was new.