Joined

Jan 2, 2012
Messages

195
Location
Apologies for cross-posting. I finally had my hands on this Netronics products ( got it for a fair price few years ago with Explorer/85). After re-soldering ( and IPA+cleaning) all points on the PCB and replacing caps, I got the the Video board working. I also re-did the solders ( and replace the ribbon cable and ic socket) on the ASCII keyboard to get it to work with the Video board. However, I have some puzzling questions about the keyboard. I re-checked all jumper settings according to the manual but...
1. When typing, some keys shows the characters on the screen. However, it sometimes does not. Only when I hit this ?key ( installed by original owner) in combination with the ASCII key that I can make it show up in the screen. There is no explanation ( that I found why so) from any source yet.
2. Repitious characters depending on how fast I hit the key....like I have de-bounce problems.
3. There is area for an extra chip +.. that was not mentioned in the manual nor shown in the schematic.
Anyway... the ?key is on J6 ( normally open) and the unpopulated parts area is near P1 ( ribbon cable)
Would anyone has a tip for me is much appreciated.
Oops... I have to upload my pictures from my computer ( on Ipad right now).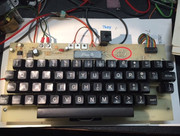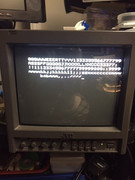 Last edited: