Joined

Nov 8, 2020
Messages

96
Location
Okay, I got the tantalum caps and regulators installed, including fixing the broken trace. Now the resistance readings are:
8v to ground: 98.6 ohms
+16v to ground: 164.4 ohms
-16v to ground: 164.3 ohms
I checked for shorts between ground and the caps and regulators. All looks good
I plugged the power to the board, and the +16v and -16v were dead at the connection lugs. If the power leads are disconnected there is a supply of + and -16v, respectively. Another check of the board after disconnecting it shows the same resistance values between the power and ground lugs.
Also, the power doesn't seem to have negatively affected any of the regulators or caps. They still check out okay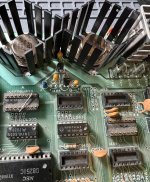 Last edited: