Joined

Jul 24, 2009
Messages

153
Location
A little surprise when I cranked up the Osborne. After running about 30 minutes without problem, a sudden pop and lots of acrid smoke coming from the areas above the drives. Note the damaged large capacitor: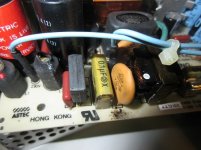 In Tezza's article on Osborne restoration, he shows the same capacitor. He writes: "Further reading showed these were old "rice paper" capacitors for reducing RF frequencies so that the computer didn't interfere with televisions in the near vicinity. Moreover, these computers can run just fine even when these capacitors are damaged! (Nearby televisions are not so lucky though!)"
https://www.classic-computers.org.nz/blog/2008-12-06-osborne-repair-1.htm
As my televisions all use digital input (not RF signals), seems like there's really no need for the RF capacitors on the power supply. The two smaller 0.01mF capacitors show no damage.
So, can I just clip off the two leads to that burned 0.1mF capacitor, and remove it?
If so, do the two feeds to the capacitor need to be shunted for the PSU to work?
Thanks.
Tom M.