Joined

Apr 21, 2011
Messages

879
Location
I really cannot believe I managed to pull this off!
One Palm I am very fond of is the original Palm III running the stock Palm OS 3.0. The Palm III comes standard with 2MB of storage, and over the past few days I have been thinking about this 8MB upgrade "hack." I remember reading about this a years ago and thinking there's no way I could ever do it, but I've gotten a lot better at soldering since then. There were aftermarket 8MB memory cards made for the Palm III, but it doesn't seem many people bought them, so they are super rare nowadays.
This upgrade is for the newer revision Palm III that uses DRAM, versus the older one that used SRAM, which can only be upgraded to 4MB and is more difficult to upgrade.
You can read all of the details about this upgrade here:
http://www.interlog.com/~tcharron/Palm8M/III8M.html
Here's a pic of the Palm III memory module when I first got the old chip off and was about to install the new 8MB chip: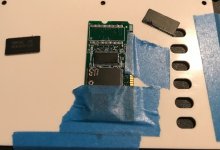 I saw several people that stated they removed the chip with solder braid, and was very doubtful I was going to be able to get it off that way, but after applying some flux and making a few passes over each row of pins with the braid, the chip popped right off! No pads were damaged or lost.
Here it is after all work was done: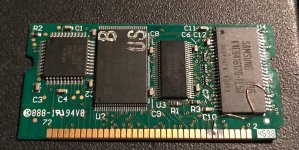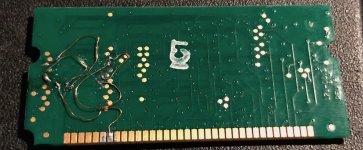 I also cut away a portion of the little pad that keeps pressure on the board in the back case, as it was partially over the area where the wires now are, and I didn't really want it pressing in them. I also applied a drop of glue in the middle of each wire (after the pic was taken) to keep them secure.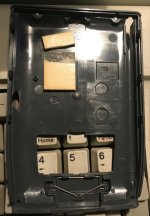 And finally, here is the palm reassembled and working showing 8MB of available space!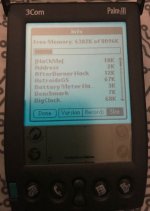 I could not be happier! This really was a fun project (took me around 3 hours). I could have lived with the 2MB (as I had done for a few years already) because it is just enough for most of my favorite apps, but I wanted some extra space so I could play with some new software on here. One way I thought of getting more storage on here was to install a motherboard from a IIIx or IIIxe into it, but I wanted to retain Palm OS 3.0, which only the original III has, so this was the best option for me.