Joined

Sep 7, 2021
Messages

254
Location
On my front panel the lower six address lights don't work properly so I, with Vince's help, built a board that has transparent latches on MA11 -> MA0 with the Latch Enable (active high) connected to TP4 and the output of the latches connected to LEDs (the inversion is handled by connecting one side of the LED to +5V (through a current limiting resistor) and the other side connected to the latch so when the latch output (and the address line) is low the LED is on.
Everything works except the address displayed on my board is one more than that of the data displayed on the front panel with the dial set to MB.
If I press Load Address and Exam I see the data I wrote into address 0000 and my board displays address 0001.
I also tried PULSE_LA_ADDR_H with the same results.
Should I be latching on a different signal?
Does anyone have any ideas?
Thanks,
Mike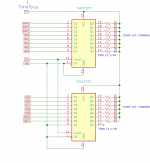 Last edited: