Joined

Apr 2, 2014
Messages

374
Location
Have a M8650-YA card that keeps having problems.
So far I mange to get a bit going.
Program 33 of the Toggle (Echo test 03/04) perfect, no problems, also when a Key is pressed continues there is no failure in the print out.
The AC is showing correctly the typed Char, f.i. A=0101. All tests with all kinds of Key's, char, as well as numbers , Capslock etc. they all print correctly.
The prog 32 (Char Print test) just rubbish as a print out, Also the AC does NOT increment, but shows the same rubbish.
The prog 31 (Print Char put in AC) does some correct, and a pattern of failure is to be seen.It repeats the pattern with the same failure.
Now I am trying to figure out and localise what part of the M8650 should be at failure.
-Think RX and TX buffers are OK
-All at the right side of Buffers (RX and TX) part must be ok due to at ECHO test the sent receive is correct.
-RX-TX Address selection paths are OK, as card reacts on control lines and ECHO prog is working.
-X-TAL is OK (even changed it out)
- RX-Decoder E43 had a failure and has been replaced by a 7442(conversion done)
Seems to be a kind of timing issue, or out of sync.
But why is it running ok with prog 33 Echo-test, when I keep pressing a key, and that keeps printing correctly.
Here what I get With prog 31 Print AC
Char "A"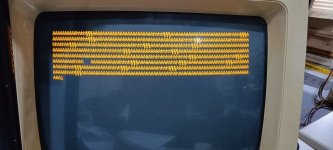 This With Char "B"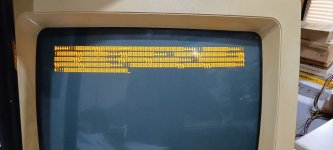 This with Char "1"

This with Char "2"

This is the Char Print prog 33