Joined

Oct 1, 2007
Messages

4,720
Location
Hi guys,
I have a mystery here and would like some comments from those far more technically astute than I.
Our mains voltage here is 240V. I have one Atari 800XL with a powerpack designed for 240v. Everything is fine with this machine.
I received another Atari 800XL a long while ago as a parts machine. It was sold as condition unknown and a powerpack that the seller said didn't work. When it arrived, I plugged it in and sure enough, nothing. However I then used my good powerpack on this machine. It went into the diagnostic routine and showed a RAM fault. Some of you might remember this, I managed to replace identify the IC and replace it with a 4164 chip. I concluded the powerpack that came with this machine was indeed faulty and consigned it to the junk corner.
Anyway, today I was going through the junk pile and came across the old non-working powerpack. I decided to measure the voltages on this, and compare them to the working one. I expected to find zero volts on the non-working pack but instead found 7.6V. So there was voltage coming out of that non-working one after all. The label said it should be 5V but I felt 7.6 was within tolerance levels especially as there was no load. Hmm…I tested the working powerpack for comparison and this said 5.4.?
I decided to plug the non-working powerpack into the (now working) Atari it originally came with. Nothing. I then plugged the "working" powerpack in. The machine booted but…to a black screen?? What?? I had it working on that machine with that powerpack earlier in the day and it was going fine??. Anyway, to cut a long story short, I did some fault finding and found ANOTHER RAM chip had blown, actually the one right next to the one I'd replaced.
It's unusual for two RAM chips to have blown just like that, so I have a theory. It was zapped by this non-working powerpack…the one putting out 7.6 volts. Remember, this was the powerpack that came with this machine, and the machine had a blown RAM IC when it arrived. Coincidence? Maybe, but I'd be interested in what you think.
Now, these powerpacks are made for Atari 800XLs but by different manufactures and maybe for different markets. Here is a photo of the labels of both.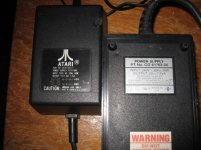 The working one, is the one on the right. Made for 240v. The non-working (or RAM zapper one) is the one on the left. Made for 220V, a voltage more common in Continental Europe.
I can't get into the powerpack so I can't examine the innards. Two questions though:
1. Is a powerpack designed for 220V likely to put out a higher voltage when used on a 240V line. In other words, perhaps it's ok..you just have to use 220v.
2. Does an extra 2.4V really make that much of a difference? The answer would seem yes, as not only did the machine fail to fire AT ALL at this higher voltage, it also seemed to zap a RAM IC?
Anyway, I'd be interested in your comments.
Tez
Last edited: