Joined

Jan 2, 2013
Messages

4,143
Location
So, now, over the years, I have had 5 serial mice who have failed in such a way that the mouse cursor won't move but the buttons still work.
I have three cheap no-name mice of the same model (the vintage that has a Microsoft/Mouse Systems switch) that failed a long, long, time ago back when they they were in use. The failed in the same way, one day vertical or horizontal movement failed, push the sensor a bit closer to the emitter and it would work for a while, then eventually they would stop again.
Well, now I have three "Abso" serial mice and testing one of them the other day showed it was dead. These mice were in almost perfect condition with very little use. One was still unused in a box, so I pulled that out - also dead in the exact same way! What?! A third was still working but that made me wonder.
The one that was working, and the one that was dead in box had the exact same circuit board and parts. After some voltage comparisons I became suspicious, so I switched out the IR Receivers and suddenly the dead one was working and the working one was dead. At least I guess they would be called "IR Receivers", They have three legs unlike a photodiode (the older 3 mice used 2-leg photodiodes) they don't have any part numbers, and searching only turns up stuff for remote controls. Not sure if they are exactly the same thing, remote control stuff looks like it has embedded frequency filtering.
Fortunately, some PS/2 mice use those same parts, so I pulled the receivers out of a crappy PS/2 scroll mouse I didn't like very much and got the newly dead one working again. So now only one dead Abso. Should at least be able to scrounge around for another PS/2 mouse with the same part.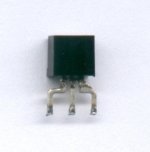 Now, the thing that is bugging me, is what caused these to die? I'm aware serial mice use some serious fudging to draw power out of an RS232 serial port. I'm wondering if some specific machine could have damaged them, or if they would have actually worked on yet some other machine due to some small variance (I did test them all on multiple machines). That one that appeared to be dead in box was unused, although I can't remember if perhaps I tested it at some point. If I had, it would have worked then. Perhaps they age? Static in the air? Plastic encasing deteriorating? They weren't dirty at all and cleaning changed nothing.
Ah, the things I do to keep things running.