We reordered t-shirts after selling out of some of the more popular sizes. Don't take a chance on us running out again - order yours today!
(Ok, hyperbole aside, these are some great shirts and buying one helps support the organization that makes this web site possible.)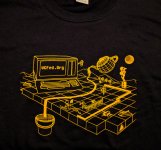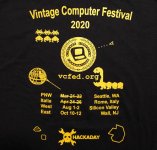 The shirts are custom made for us by A Nova Print, a great small business in Portland, Oregon. Two colors are available: Classic CRT Green and Classic CRT Amber. Women's and Men's sizes are both available too.
This work of art can be yours for $20 + actual shipping. See
http://vcfed.org/wp/t-shirts/
for details.