Joined

Jan 1, 2020
Messages

339
Location
Exclusive photos reveal Hollywood secrets!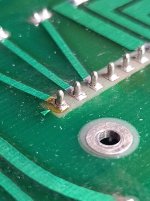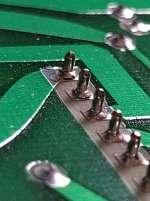 That's a problem right there. This connector conveys power from the "low voltage power supply" to the display circuitry. In the top photo, from left to right, are pins carrying
+490V unregulated
+290V regulated
+175V unregulated
Ground
-15V flood gun filament
+15V flood gun filament
In the bottom photo, from top to bottom:
Ground
-15V
+5V
+15V
Ground
-9V
So the joints were cracking at the edges at least, and on the obviously impacted pins, those voltages (+490V, +290V, -15V, +0V of course) are all critical for the display. I did go ahead and replace the capacitors that I had been abusing earlier (this board is a bear to extract from the machine, so might as well do it), but in all likelihood the connector here is the main culprit. Either way, it has to be fixed. I reflowed the cracked joints... and the rest of the joints, and the joints on all the other plug connectors on the board. Plus the joints at the other end of the cable that connects to this connector.
After running with the lid on for a while and noting no jumpy text, I'm hopeful that the Hollywood saga is concluded with long odds of a sequel. The process of disassembling the display circuitry also made me feel a bit more brave about undertaking the imposing calibration procedure that hopefully might improve display quality --- although it still sounds like a pain! In any case, thanks for the thoughts --- let's hope this was it!