Joined

Jan 1, 2020
Messages

461
Location
Hi folks,
I have a Tek 4054A whose beam occasionally wanders and jumps around. This yields a phenomenon I call "Hollywood Syndrome" because letters you type as the beam is sliding about look abut as tidy as the Hollywood Sign. This video shows the effect well:
You can really see the cursor jump and slide around at the 30 second mark. Here's a still image of the result: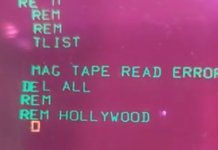 Usually the wandering is too slow for a noticeable effect on a letter or a shape mid-draw, but it can happen: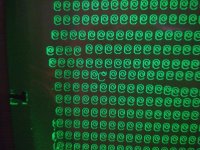 Does anyone have any thoughts about how to troubleshoot this problem? Naturally, it's intermittent, and it seems to emerge when the computer gets warm.
It's unfashionable to suspect capacitors in 2022 but I suspect a capacitor somewhere. Don't worry, though, I won't start replacing anything yet. I want to find out what's really wrong and fix it. I've been doing some reading of the 405[24]
technical manual
and the
schematics
, and I'm sure the answer can be worked out in time with those resources, but perhaps some likely suspects are known to people on this forum now.
Thanks for any thoughts!