Joined

Sep 9, 2020
Messages

112
Location
I have an IBM 5151 display that is working great (stable raster, good brightness, decent focus) except that it starts making an awful whining noise after about 20-30 minutes of use. Turning the display off and letting it rest for an hour doesn't have any effect. Once it's started to make the whine, it will start the whining noise as soon as power and video signal are applied. (When powered on but without a video signal, there is no whine.) If I put the 5151 back on the shelf and return to it the next day, I get another 20-30 minutes of blissful silence before the whining begins anew.
The raster remains perfectly stable even when the whining noise is happening. The whining noise is constant and unchanging in pitch or amplitude.
I can't quite hear the normal 18432hz sync (it's about 750-1000hz too high) and the whine sounded around 9khz, so I used a basic audio spectrum analyzer app on my phone to confirm that before the whine begins, the only sound is an (inaudible to me) 18432hz tone; once the whine begins, there's an additional (audible to me) 9216hz tone...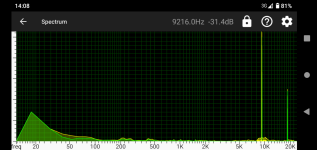 The fact that the whine is precisely half of the horizontal sync frequency is quite interesting. What could be causing this? Is there some component that is slowly heating up and that needs a significant amount of time (multiple hours) to cool back down again?
I haven't opened up the 5151 yet. When I do pop it open (it won't be the first CRT that I've worked on) what should I be looking for?