Joined

Apr 20, 2023
Messages

38
I'm new to this forum and I'm stunned that I didn't find it earlier, but I finally think maybe I've found my people.
Anyway, just for fun I want to see if I can stump
@Chuck(G)
since someone said:
- - - - - - - - - - - - -
Do you seriously know everything about PCs- hardware and software? I'm half-convinced that you do. I think I've yet to see a thread where you don't know the answer
(maybe I should look harder?)!
- - - - - - - - - - - - -
So here we go,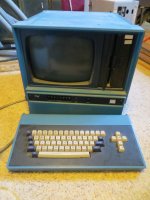 DougM