These cards should work either in an 8 or 16 bit ISA bus and can add the wonderful world of networking to your machine.
You will need either ThinNet cabling or an AUI Transceiver. If you go the AUI route you can connect it to a modern twisted pair network using standard Cat 5 cables. Look for something like this: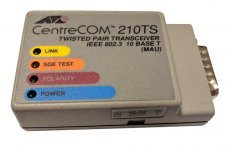 (The pictured item is an AT-210TS, but it's just a slightly slimmer form factor. Get whatever you can find for cheap.)
Disclaimer: I am not affiliated with the seller.