Joined

May 9, 2011
Messages

5,445
Location
... Now some possibly interesting Topbench results.
As mentioned earlier, I recently built an expansion card that backfills a Tandy 1000 EX to 640k using a SRAM chip and does *not* include a DMA controller. Today I upgraded the machine to a V-20 CPU. (There's a lame thread I updated about my half-hearted attempt to see if it could be trivially overclocked; that's why I was doing tons of reading on the timing chips in the EX and found the bit about wait states and video memory.) After upgrading I ran Topbench, and I found a curious result. Here are my results (copied from database.ini):
[UID9890119E98]
MemoryTest=1843
OpcodeTest=1110
VidramTest=1129
MemEATest=1428
3DGameTest=1030
Score=8
CPU=NEC V20
CPUspeed=7.16 MHz
BIOSinfo=Tandy 1000
BIOSdate=19860714
BIOSCRC16=9890
VideoSystem=CGA
VideoAdapter=Tandy 1000
Machine=Tandy 1000 EX - V20
Description=Tandy 1000 EX w/V20, Custom SRAM RAM card, no DMA
Submitter=Eudimorphodon@VCfed forums
(Apparently I'm right on the bubble between being rewarded a "7" or an "8", the batch run that wrote it to the database gave me an 8 while a dynamic run gives me a 7, for what appears to be two microseconds difference.)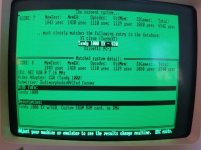 The reason I was possessed to dig up this thread was this result from the database for a 1000 HX with a V-20 and 640k. (I presume that 640k is from a Tandy DMA RAM card.)
[UIDF9D031C]
MemoryTest=2033
OpcodeTest=1231
VidramTest=1265
MemEATest=1600
3DGameTest=1142
Score=7
CPU=NEC V20
CPUspeed=7.16 MHz
BIOSinfo=Copyright (C) 1984,1985,1986,1987 (06/01/87, rev. 100)
BIOSdate=19870601
BIOSCRC16=F9D0
VideoSystem=CGA
VideoAdapter=Tandy 1000
Machine=Tandy 1000 HX
Description=640kb memory, ROM 2.00.00, with a 2400 baud dialup modem. Go ahead - laugh - it came with the machine, dangit!!
Submitter=Maverik1978 (VCF)
My machine actually seems to run substantially faster than the one with the DMA card; 114% as fast according to the database comparison: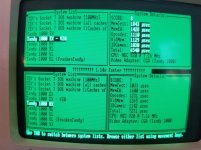 I am banging my head against the wall for not comparing in detail the results to the 1000 EX in the database *before* swapping CPUs. I *really* don't want to swap them back. My assumption is that all things being equal an EX and an HX should score identically in Topbench. Does anyone have an EX with the Tandy RAM board and a V-20 to test? If these results are correct then I have to assume that the DMA card must at least sometimes induce wait states that my dead-stupid SRAM card doesn't. QED, a Tandy 1000 (EX) with no DMA is *faster* than one with it?