Joined

Mar 7, 2018
Messages

1,236
Location
With lots of help on the software, my GPIB Flash Drive for Tektronix 4050 graphics computers is now available!!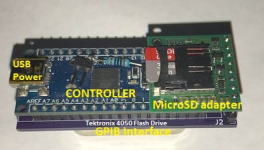 4050 GPIB Flash Drive Features
1. Completely replaces 4050 internal tape drive for ALL program and data storage
2. Ready to run with 35 games and 33 R12/Fast Graphics pictures pre-installed on MicroSD card
3. MicroSD card provides Gigabytes of program data and storage
a. Plug MicroSD into USB-MicroSD adapter (not supplied) to transfer program & data files to/from your PC
4. Faster access and loading of all files than internal tape
5. Stores each 'tape' in separate folder – 100's of tapes can be stored on same Flash Drive
6. Compatible with all Tektronix 4051, 4052, 4052A, 4054 and 4054A computers
7. Supports all 4050 BASIC GPIB tape commands:
a. FIND, MARK, KILL, OLD, BOLD, APPEND, PRINT, INPUT, READ, WRITE
8. Plugs into 4050 GPIB connector – no ROM backpack slots required
9. Flash Drive Micro-USB power cord included
I've just uploaded the User Guide, MicroSD files, and Arduino code to my github repository:
https://github.com/mmcgraw74/Tektronix-4051-4052-4054-Program-Files/tree/master/Flash_Drive
You can build it yourself or I can assemble it for you.
Last edited: