Joined

Jun 21, 2019
Messages

70
Location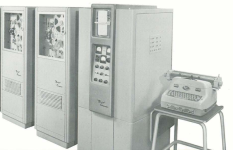 I have a long-time friend who recently mentioned to me that he has an old computer in his garage that he'd like to find a good home for, preferably a museum.
"What type of computer is it?", I asked.
"A Bendix G-15", he answers.
"Oh cool", I answered, having no clue what he was talking about.
I had to look it up and what I found was absolutely amazing.
The Bendix G-15 is a very early (1956) vacuum tube computer based on Alan Turing's Pilot ACE. It was hailed as the first "personal computer" (meaning it only need one person to operate it) and was one of the very last vacuum tube computers produced. It's an odd beast, unlike any other computer I know of. It has a 29-bit word length, a whopping 2,160 words of magnetic drum memory, and an almost indecipherable instruction set. All operations are performed 1 bit-at-a-time.
There were only about 350 produced and they are quite rare now. One is in the Smithsonian, several are in museums around the world, and one is in my friend's garage in Louisville. The only functioning G15 that I know of is a restoration commissioned some years ago by Paul Allen. There is also a long-term restoration in-progress at the Living Computer Museum in Seattle.
The G-15 was well-known by many of the pioneers in our industry, including Donald Knuth, Ken Thompson, Paul Allen, Alan Perlis, Thomas Kurtz, David Evans, Ivan Sutherland, Elliot Organick, Mitch Kapor, David Ahl, Niklaus Wirth, John Backus, Vint Cerf, Seymour Cray, Max Palevsky, and Jeff Duntemann. For many of them, it was the first computer they used.
My friend's G15 is in nearly mint condition appearance-wise but is not functional. Apparently, most of the 450 vacuum tubes died an early death and most of the 3,000 germanium diodes have degraded to a direct short. Restoring it to full functionality would be extremely expensive, impractical, and I'm not even sure the fire marshal would allow it indoors. Some early users even relied on it to heat their offices. It would, however, make a magnificent museum display. It's not as large as it looks in the photos. There are 3 units measuring 3′ x 3′ x 5′ and a teletype-style terminal. It is heavy, totaling over 1,500 pounds, and requires great care when transporting it.
To make a long story short, I have found a museum that wants the Bendix G-15 and I'll be starting the long transportation and restoration (mostly clean-up) process soon!
I've done a fair bit of restoration on DEC PDP-11s, Altair 8800s, Heathkit H8s, etc. but this is pretty intimidating, so I'd love to have some advice from the members here. I'll create a thread for each major topic and summarize the posts on my blog at:
Head Spin Labs
.
Thanks,
Steve
Last edited: