Joined

Apr 21, 2011
Messages

983
Location
I managed to pull this off. I successfully replaced the bad spindle motor in a Miniscribe 3650! I had a lot of fun with this, and seeing an old Miniscribe come back to life warms my heart.
I got a really nice looking Miniscribe 3650 for cheap on eBay but when I first plugged it in, it didn't spin and I got a flashing error code on the LED. I figured it had stiction, so I removed the PCB to turn the flywheel and found it was not stuck at all!
If I applied power and gave the spindle a manual turn it would start spin up VERY slowly, and the drive would always give up long before it reached speed.
My first assumption was the main PCB was bad, so I hooked a known good one to it and got the same result!
So at that point I knew the spindle had to be bad. The drive has an Ontrack data recovery sticker on top, so I'm assuming this drive failed many, many years ago, possibly not long after it was made. I suspect it had a factory defect, because a failed spindle is quite rare. I've seen drives that look like they've been under water that will still at least spin.
I found a good donor drive on eBay that was missing the PCB and stepper motor, but appeared to have an intact spindle, so I jumped on it. This is the craziest hard drive repair I've ever taken on and I'm so glad it worked.
Here's pics of the donor drive in different stages of dissasembly (forgot to get one before taking the lid off).
Donor ready for disassembly.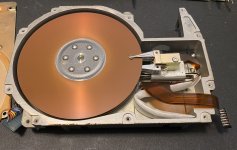 Heads unloaded and top platter removed from donor drive.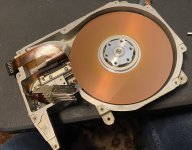 Heads and platters completely removed from donor drive.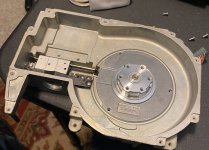 Good spindle liberated from donor drive!