Joined

Dec 1, 2013
Messages

1,620
Location
Last winter I was at a friends machine shop, machining some new parts for my Model T Ford, I spotted an old machine in the corner. It turned out to be a what is called an NC machine, not CNC, but NC. It has not been used for 25 years and it has a DEC PDP8E computer in it. So I naturally had to ask about it. I expressed my interest in having this computer. At first it didn't get much response, but I kept asking off and on. Anyway, this last weekend I was notified that I could have the unit, so I loaded it up on my truck and brought it home.
It seems complete, as far as I know, not being too familiar with this computer. It is pretty well covered with a light coating of machine oil and you can see that water must have gotten on it from the rust on the top cover.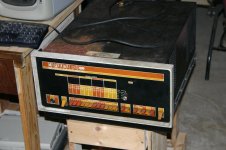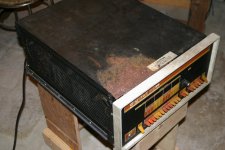 I made a cart for it, so I could move it around, it's heavy! I have not plugged it in and will not for a while. I'm worried about ruining something. I found the serial number, it is #8789. I got the cover off and it is full of cards. I suspect mostly I/O so it could control the machine tool.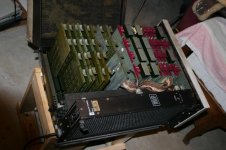 Today I wanted to see what damage the water did. I removed the front panel card and found that switches 0 & 1 of the switch register are corroded to the point of being froze. All the other switches move. The card itself has oxidation and some corrosion on it. The omnibus plug also is rather green. The other cards, so far do not look like they have been affected.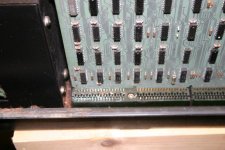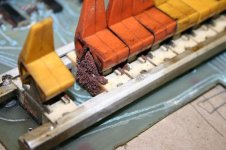 My plan is to try and get this machine to run. What I'm going to do now is just clean and determine what parts are needed, find documentation and replacement parts. I'm not in any hurry to go it going and will keep this thread updated as I go. I'm sure I'll have a bunch of questions and they will be here. Mike