Seeing if anyone has any more info this system I recently got (mainly how to operate it). It's a Scientific Micro Systems MDX01170. I only found one post on a site where someone else was asking about it, but not much info on it other than the boards in it.
Pics of the front and back: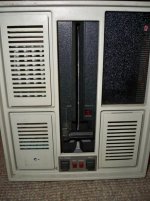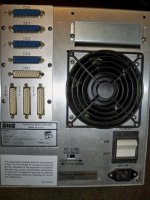 The only history I have on this one is that it came from a local air force base (they used to auction off a lot of cool items but now send items to another base to sell). The tags/labels on it had "Programming Station" on it, and after looking up the federal stock number, this is the description they have for it:
C/O PDP 11/23 CPU;256 KB RAM;8 IN. FLOPPY DISK DRIVE;VT-101 TERMINAL;160 CPS SERIAL PRINTER;SCAN SOFTWARE
I'd like to find a VT101 or VT100 terminal to use with it. There's probably one somewhere around here that was auctioned off, but it'll be tough finding a person who bought one.
Here's a list of the boards inside:
TZ0 - TZ3 are connected to M3106 which is a 4-line double-buffered async MUX
LP0, TT0-TT2 are connected to a Sigma Information Systems 400200 board, which I think handles serial communications
CPU board is a M8186-YC = 11/23 CPU without options, KDF11-AC DUAL HEIGHT CPU
Clearpoint QRAM-11B board with 256 kB memory.
Scientific Micro Systems 0004222 and 0003772 Disk Controller cards
It also has a maxtor xt-1085 HDD too. Highly unlikely it still works, but I'll find out when I can find a terminal to use with it.
I do have a couple of questions:
Can I use any terminal with it instead of a VT101 or VT100?
Is there something special with the LP0 connection? I'm wondering why it goes to the same board as the TT0-TT2 ports but is labeled different.
What sites have good information on this type of stuff? I guess I should be looking for info on the PDP-11 architecture?
Last edited: